Visualizza questa pagina in italiano
Which are "microwave contests" ????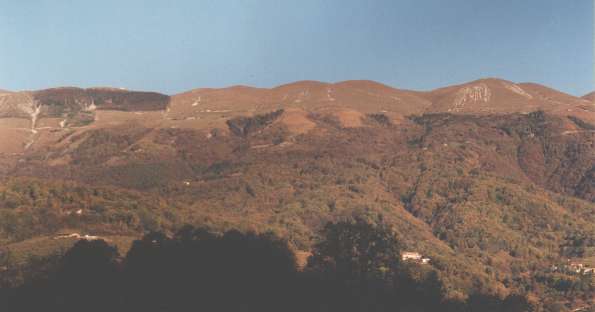 Microwave contests are competitions which the target is to do as many as possible vocal/tv connections with other amateur radio peoples.
A classifications is made by computing the score adding the distance (in kilometres) of each connection (QSO). For Example, if i make 50 QSO with an average distance of 250Km, my score is 250*50=12500 points
The contests are organized by hamradio associations, for a specific day or week-end, for a length of 6 to 24 hours.
Due to the score calculation method, the winner is the hamradio people located in the best location (in the highest and most open mountain) with the best devices (most powerful transmitter, most sensible receivers and most wide antennas).

Usually I take part to 6-8 contests per year, from my portable hamradio stations working in the open-air from the top of a mountain near my home, like "Cesen Mountain" in the figure at the right.
My microwave portable station
My microwave contest stations is made by
85cm offset parabole with two horn illuminators ( 5.7 and 10 GHz band)
2x8 dipole array antenna, by I3KUH, for the 2.3 GHz band
26 elements Yagi antenna, by I3KUH, for the 1.2 GHz band
Radios Control box , that permit to use the four radios by two operators simultaneously, with the vocal automatic calling using a DAST
2-litre bottle of Prosecco wine, produced at my village Col San Martino : refreshing in the summer, warming up in the winter! (staying in the open-air for eight hours a day in the winter, on the top of a mountain, is NOT possible without alcool!)
Our contest results
Our contest results with entire logs are reported below.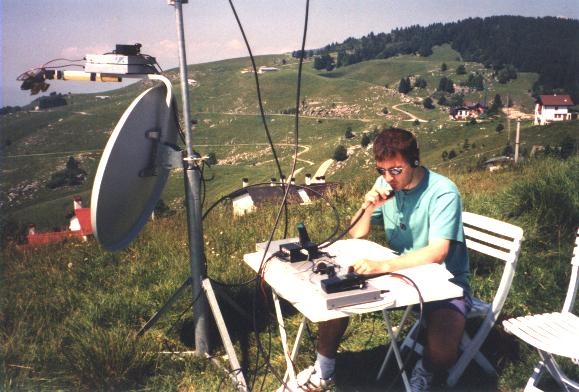 Images from several contests
---
Nov 17, 2019 - 18:54:24 - http://


Home

Software

Microwave
contests

Audio/Video
transmissions

Wireless
network WiFi

Go Top
This page was accessed 61050 times - Last update on
Mon, 19 Jun 2006 21:05:43 +0200
d0nt. Send email to spazzatura@ir3ip.net